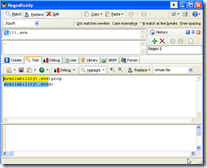 Much as I appreciate the conciseness, usefulness and elegance of Regular Expressions; I just don't use them enough to have mastered them or keep the rules in my memory. I used to rely on "Mastering Regular Expressions", which I still find very useful. But I registered RegexBuddy about a year ago when I found myself struggling with a regular expression for about an hour. 2 minutes after I had bought and downloaded RegexBuddy I managed to create the desired regex.
And now Jan Goyvaerts the author of RegexBuddy has a new blog dedicated to Regexing called Regex-Guru - this quickly found its way into my RSS reader so I recommend it to all testers as it will serve as a useful reminder that the Regex exists and of its capabilities.
I still rely on RegexBuddy any time I have any regular expressions to solve or fiddle with. It doesn't have a trial download but it does have a 3 month money back guarantee. I can't imagine calling on that guarantee and I found that RegexBuddy paid for itself, in terms of cost of time saved, in a matter of minutes.
RegexBuddy automatically generates Regex code in a bunch of different languages and has a basic built in Grep functionality?
Also check out Jan's regular-expressions.info website for regular expression information, examples and tutorials.
Links: