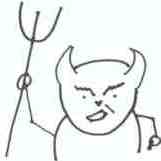 I dislike the term QA when applied to testers in general. I dislike it more when applied to my team. I dislike it even more when applied to me. If you read this, and you use the term QA - stop it.
Bad Trend towards QA
Unfortunately if I graphed the trend for verbal usage of this term I would see draw a line heading upwards.
I used to hear it more from the American staff I worked with, but now the disease has spread to UK staff.
I hear it more than I read it. As demonstrated by the mighty Google Fight - QA loses when faced with the overwhelming power of testing
Warning: I may have specifically chosen search terms to make the point (do not look behind the curtain)
Even in the 'Quality' books, Deming and Crosby class Quality as everybody's business (Crosby then blows it by recommending the creation of quality engineers).
Even if I mistakenly interpreted QA as "Quality Assistant" then everyone should have that as part of their title - unless of course some roles actually set out to not assist in the generation of a quality product.
So, if you read this, and you use the term QA - stop it. I test things, I don't ka them. (QA is pronounced Ka when spoken as a word)
QA distorts your thinking
Use of the term distorts your thinking.
Even if just for the second that you say it.
Either you don't know what QA stands for. Or you haven't thought through the implications of your usage.
Could you possibly not realise that when you use the term QA you have just delegated the responsibility for assuring quality to those people. And you probably won't check that they have done it, and haven't defined what quality means, so you failed to effectively delegate something you may not even realise that you delegated.
If you read this, and you use the term - just stop it.
Let me clear this up
Perhaps I can say this more clearly.
Stop using the term QA.
Say "tester" or "testing" or "performance testing" or "review" or "unit testing" or
Testers - stand together, we don't have to take this abuse
Is this a modern form of verbal abuse? Instead of racist terms do we now use pejorative role names? Should testers reciprocate with derogatory names for their team mates? Of course we testers would not do this because of our civilised, kind, gentle and forgiving natures.
Buy your "don't call me a QA" mouse-mats and T-shirts now and free the testing industry from this verbal abuse. Buy some for your code monkey and propeller heads teammates so that they learn that the use of pejorative terms is just plain wrong.
(Should demand warrant it I will happily create
"Don't call me a code monkey" T-shirt so developers
can get their own back on the QAs)
Related links: