When I test applications that read files I like to test how they handle locked files.
And yes, I once had a situation where I needed to lock lots of files, and then lock some more and then lock even more. So I wrote Locky to help me.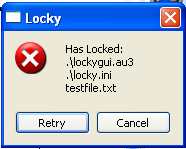 I obviously had a lot of time on my hands as I made it fairly generic. I honestly don't know how long ago I wrote this. Yet another tool from my hard drive archives - and yes more probably exist.
Basically create an ini file with the files to lock. Run locky, add some more files to the ini file (that is what the spare files section is for so you can copy and paste them) then hit retry and you lock some more.
I could make it more sophisticated and have different locking schemes and unlocks… but I probably won't - I include the AutoIt source code in the archive so that you can if make it do that if you want to.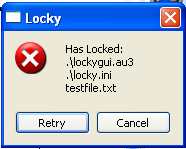 I have many other tools that I have written to support testing and you can find the main links here.