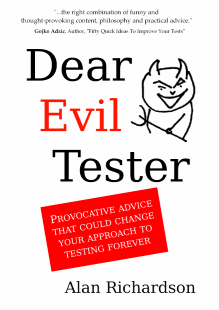 "Dear Evil Tester" is coming soon.
It is funny.
And that's fairly revolutionary in the testing market although Rob Sabourin's "I am a bug" and Andy Glover's "Cartoon Tester" provided humour in book form before I did. And this book contains the kind of humour that I relate to most.
Huib Schoots said "Alan writes with a dark humour that I like a lot!"
Thanks Huib, I like that a lot too.
Richard Bradshaw called it "a warm dark blanket of humour and wit".
Thanks Richard.
I wrote "Dear Evil Tester" because I see a gap in the coverage of current testing books. I don't see many testing books which cover the 'Attitude' that we need and want testers to build up.
This is a Question and Answer book.
And the answers are written in a way that I needed/wanted someone to talk to me when I was growing up as a tester. Someone who's answers would force me to think about whether I thought what we were going was a good idea and caused me to take responsibility for my test approach. Not because it was what the process said, or because it was what the 'experts' say, instead because it was what we say.
I learned to do this.
Hopefully with enough experience we learn to do this. So testers who have more experience will be able to relate to the book on this level. And testers with less experience will hopefully have that experience as they read the book.
We can use humour to challenge how we think, just as we use humour as a defense mechanism. In some ways I've drawn upon my readings of Provocative Therapy with a "Devil's Advocate" approach to provide answers which lead to a change of attitude.
Rob Sabourin said "I laughed - then I cried - then I laughed harder - then I cried softer."
Thanks Rob, it moved me too.
I'm working through the final edits now, if you want to be informed when the book is released then you can register your interest on the leanpub.com/DearEvilTester page.
I hope you'll like it. And stay tuned because I'll be showing you some behind the scenes footage as I complete the editing process.