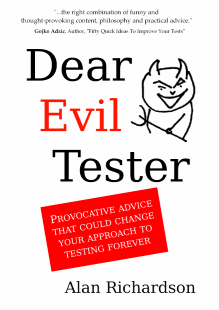 Today became "Dear Evil Tester" launch day.
Surprise!
I suspect 'professionals' create a plan and stick to it. I'm more of a kanban, ship it when it is ready, kind of guy.
On the 16th March, I received a final proof copy, and I reviewed that. Then on the 17th I hit publish.
I found the free pdf comparison tool "diff-pdf" very useful for final leanpub print ready pdf comparison during my final proof phase.
The launch process proceeded as follows:
start at leanpub
check the book details
realise you haven't added a price
add price (make it slightly cheaper than amazon kindle because of the difference in royalty rates)
click publish
check the page looks OK in incognito mode
tweet
tweet that a sample is available now so people can try before they buy
move on to createspace
click publish
stare at the message that says "this might take 3-4 days" and wonder how people manage to create a co-ordinated launch across all platforms
move on to kdp (kindle direct publishing)
click publish
again stare aghast at the "this might take 3-4 days" message
be amazed as you start responding to peeps tweets about buying the book. Thank you all.
see that Amazon.co.uk have listed the book for sale
tweet that
start editing all your web pages
notice that the feedjs server you were relying on for your rss feeds has stopped responding, so create a new endpoint for your existing rss caching to work on different sites
notice that the kindle version has been published
tweet that
respond to more peeps tweets. Thank you all again.
Write a promotional blog post
I still have more to do in the launch.
make sure Amazon notice that the paperback and kindle book are actually the same book and are listed together
create a leanpub promo video
amend the sales pages
But overall, the 'publish' part of 'self publishing' has become quite smooth.
Thank you for your support.