TLDR; Updated my "Automating and Testing a REST API ebook to have 50 more pages and now covers JSON and XML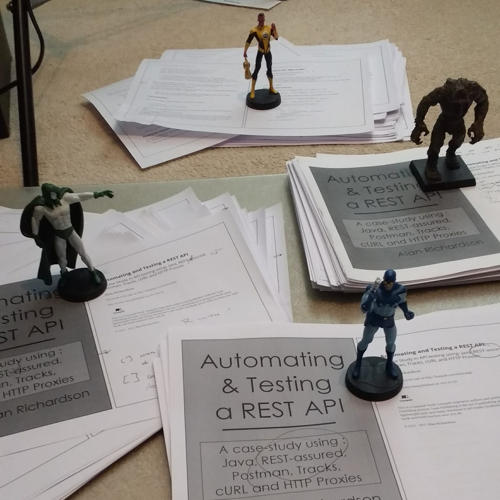 For the last week or so I've been fixing up the editing todos on "Automating and Testing a REST API" that I collated back in January.
I have a gap between conferences which has allowed me to go back and get this text ready for Paperback.
I thought I was just going to fix a few Grammar errors and I had in the back of my mind that I might need to create a short "Intro to HTTP and APIs" chapter.
But no… my inner writer had other ideas.
Fix the grammar errors identified
Fix all the spelling errors found
Add an introduction chapter section on various web terminology - what is HTTP, what is an API, what is REST, what are HTTP headers, etc.
expand the cURL case study section has more information on cURL and what it is for, rather than diving straight into the technical stuff
Add more explanatory notes during the cURL section
Add a new chapter providing an overview of the Tracks 2.3.0 testing before diving into the details
A new chapter, with a new package in the code, covering JSON and XML processing with REST Assured
Expanded the summary chapter on REST Assured
All of the above totalled about 50 new pages.
More importantly the book has a better introductory flow for people new to the technical aspects of testing REST APIs and I have a whole new section on JSON processing which wasn't in scope for the case study since the application under test only uses XML. But I didn't let that stop me. No.
The new chapter provides an introduction to:
JSON and XML parsing
serialization and deserialization
payload objects
And as if that wasn't enough. That wasn't all.
I've also updated the sourcecode. With a few more examples of JSON and XML processing than I cover in the main text.
I'm off to print it out again and star the review for the paperback edition.
Those of you who have already purchased it through leanpub should have received an email with the download links for the updated version.
Thanks to everyone who has purchased it thus far. Hopefully the updates give you a little more to work on.
And if you haven't bought it yet then there is an 80 page preview. I know, too much, I think so. But… I want you to be sure that when you buy it, you know you're going to get value from it.