TLDR; The world needs another Software Testing Podcast. So I created one.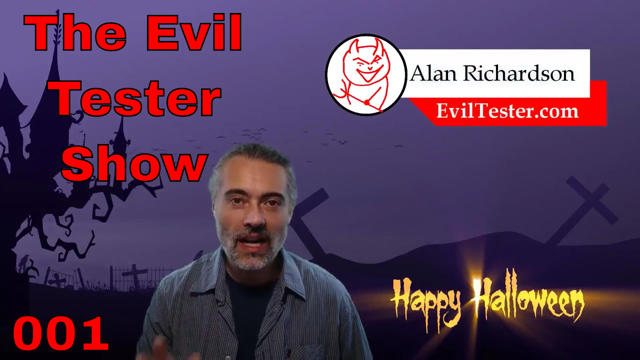 The first episode is a Halloween Special. It is available as an audio podcast or as a video podcast.
Most of the YouTube videos I create are practical. But, I've been creating a few which could easily stand on their own as Audio podcasts. Therefore I needed to have a medium to support that.
I've created The Evil Tester Show
It is live on iTunes so should be findable in your podcast app. (I use Podcast addict
My plan is:
cover material that I don't do normally on YouTube - book reviews, interviews, stuff
release excerpts of recordings from conference talk
share smaller chunks of useful information - the kind of thing I might tweet
periodically cross over into a "Team Up" with Black Ops Testing
and normal podcasty type stuff
I'll get the hang of this over time, but I thought I'd start with a Halloween Special. (Perfect to listen to after your binge watch of Stranger Things Season Two).
So I cover:
Charles Fort
Houdini
Ghost Hunting
Unconventional Influences Eurostar Keynote from 2012
You will be able to find all episodes over at:
Courting Controversy
Before this episode even aired, I managed to stir up some controversy for myself.
I include an excerpt from the final Houdini seance - if you haven't heard it, you can find it on Archive.org (I have a link to this and all the sources mentioned in the Show Notes)
The Houdini Seance was recorded in 1936, and according to Archive.org is now in the public domain.
But… YouTube automagically flagged my video as violating the copyright of a heavy metal band called Poison Garden, because their La Danse Macabre song uses the same excerpt from this Public Domain recording, but adds some music on top of it.
It took me weeks to get YouTube to recognise that my image was being used in someone else's YouTube video, but all of 3 seconds for them to match public domain seance extracts and assign copyright to a heavy metal band.
I raised a copyright dispute with YouTube and Beyond Music quickly released the copyright claim. But this is just another example of 'Failure Demand' caused by overzealous Big Data or Machine Learning systems which either haven't been coded with the ability to specify exceptions and therefore can't cope with the Requisite Demand on their service, or have just learned the wrong thing, or been overly Big Datafied.
Failure Demand is a concept that I first read in a John Seddon book "I Want You to Cheat" and refers to "demand caused by failure to do something or do something right for the customer". I think this is a very useful concept for testers and recommend John Seddon's books. Probably a topic to add to a future episode of The Evil Tester Show.
Video Podcast