TLDR; download the source from github, open in IntelliJ and amend the IP address, username and password of the VM installed admin user.
I recently realised that I didn't have a video showing how to download and use the source code for the book Automating and Testing a REST API
Rectified. Now I do.
In the video I show:
Download the .zip file
Run mvn clean test in the unzipped folder to download the dependencies
Open the pom.xml in IntelliJ
Accessing tracks from the VM
Change the config in TestEnvDefaults
Running test data setup tests in SetupTracksTestDataUtilityTest
And I discuss how to can resolve some common setup issues
I have also added this video to the book support page, along with all the other support videos for the book: how to install curl, how to setup the VM, using cURL, using Proxies, using Postman.
Where can I get the Book?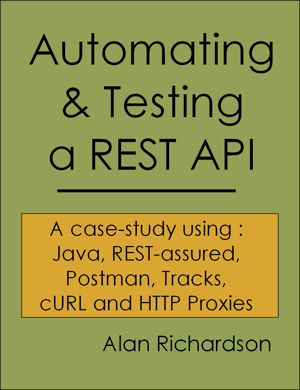 /page/books/automating-testing-api-casestudy/
Video