Content Summary for april 2022 EvilTester.com and Patreon. In April I released the TesterHQ membership site and migrated all my courses and unreleased ebooks to the site as a Patreon Benefit.
Course Hosting
My course hosting provider decided to delete most of the course content during a failed migration. I decided to use April as a chance to finish my Tester HQ Course site. Patreon supporters can login to the site via OAuth with their normal Patreon login and gain access to all my courses and many unreleased ebooks. This removes my reliance on external course hosting sites and their random terms and condition changes and allows me to release the content easily for Patreon supporters.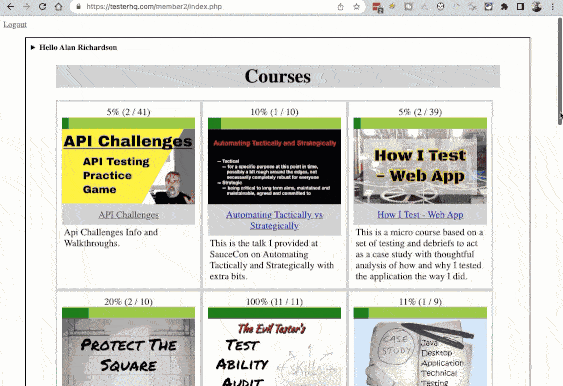 The content on Patreon is accessible for only $1 a month at patreon.com/eviltester. Supporters gain access to downloadable PDFs of the content and micro courses e.g. How I Test - Web App, Test Ability Audit and more
All the monthly summaries are in their own category if you want to browse (and the summaries index here).
Patreon Posts For April 2022
My second adventure in course restructuring and panics with Teachable is over.
---
One of the hardest things to convince people of, I find, is the creation of abstractions.
---
I've finished adding the main courses to testerhq now. I'm starting on ebook uploads now.
---
This is a bit of rant to describe the online course hosting debacle that I'm going through and it is lesson in how not to communicate.
---
I found a note that I had written to myself under a stack of papers.
---
Some api observation exercise suggestions.
---
For the last day of the Easter holidays I had a quick look to try and build some progress persistence for the testerhq course system.
---
Vimeo refreshed. Uploaded 5gig more content.
---
This is a list of content I posted in March 2022.Back to Index of all monthly summariesSocial ContentStuff on social that caught my eye.This
---
The PDF for all Patreon and blog content is attached to this post.
---
A little about media queries and dev tool media query testing.
---
At the moment I am automating a lot of the process to generate course output from meta-data.I thought I'd document the process of automating
---
My attempt to create an escrow and self maintained course system progresses.
---
Last week, Teachable… the company that I host courses with had a complete screw-up. So I'm trying to migrate behind a Patreon login.
---
Notes on using lists when testing.
---
Our ability to report accurately is limited by the level we can observe, and what we notice in our observations.I 'finished' my TwitterAPI a
---
notes on creating 'new functionality' that builds on, and is similar to existing functionality, but will diverge.
---
You can gain access to the content on Patreon for only $1 a month at patreon.com/eviltester. Supporters gain access to downloadable PDFs of the content and micro courses e.g. How I Test - Web App, Test Ability Audit and more