I can help you get your message out through objective value add advocacy or sponsored, unobtrusive, marketing.
Sponsorship Advertising
Blog Sponsorship
The obvious way to get your brand out to a different audience is to sponsor the blog.
I have a sponsor bar on the site which you can pay to have your message displayed there on a month by month basis.
The message appears on every blog page
You have about 130 characters to get your message out
The message has a single url link that it can lead to
I would also mention your sponsorship in a newsletter
cost £1000 (+ VAT) for a month on the site
The message has to be approved prior to adding to the site. And not every sponsor will be accepted.
---
Podcast Sponsorship
You could sponsor an episode of the Podcast.
Your company would be mentioned at the star of the Podcast
And at the end of the Podcast
Your short message and link would be added to the show notes
The Podcast is syndicated as an audio format through itunes, spotify, etc.
The Podcast is also added as a video on YouTube
The message has to be approved prior to agreeing inclusion in the Podcast. Not all sponsors will be accepted.
This is a much longer marketing opportunity because the Podcast episode is not changed once it is released and only one company can sponsor each episode.
---
Influencer Partnerships
Webinars Don't Work
Pretty much everyone uses guest blogs and webinars to engage in influencer marketing in Software Development and I don't think they really convert well.
They don't tend to promote your product,
they are expensive in terms of time and effort,
it doesn't really convert into traffic to build either brand.
This is partly because most people lock a webinar behind a sign up, but ongoing long tail marketing for a webinar requires a different SEO approach than most companies use.
Educational Video Content Works
Educational, objective, video content can work.
Harness YouTube SEO
Get your product demo in front of a different audience
An educational value can add value to the viewer
If your tool or services adds value, then I can help show people that value
Video content can drive traffic to a website, email list signup, or product evaluation signup.
Much more so than a webinar since a demo video, is actually about your product. The call to action in an educational video actually relates to the video.
---
Video Marketing Service
Creation of survey/overview videos of your product
I can create an objective survey or overview video of your product e.g.:
take one of your products
pick one or two features
demonstrate them in action
video would be released to youtube and promoted on twitter
video would be embedded in a blog post and promoted on twitter
you would be able to retweet and promote the video or blog or embed the video in your own blog
receive a copy of the mp4 of the video for your own promotion use
receive a .srt file for sub titles to the video
A survey/overview is more of a feature based video which allows for an objective presentation. It won't be a paid for advert because that might compromise my integrity and brand.
Hopefully your product is good and we can work on future promotions for your product more organically that I can comfortably promote on a benefits basis and create a longer term promotional relationship.
Alan Richardson EvilTester.com Benefits
Most testing professionals will be able to write a blog post or present a webinar. I have the advantage that I have grown a large blog following and YouTube following. And I have a lot of video creation experience:
created hundreds of videos
good audio and video editing software
ChromaKey videos
editing skills
I can create professional product videos. Most testing and development professionals do not combine their technical skills with marketing skills to help you promote your products.
I have an audience of 7000+ on YouTube
I optimise my videos for SEO for both organic Youtube and SERP placement
This would be a paid for video creation, and we would have to discuss in advance the features to cover, and you would have to give me access to the product in order to make the video and potentially support me in doing so to allow the creation of the video to be smooth.
Prices will vary.
Prices will cover learning the tool in order to prepare the video script outline. I may need support to understand the tool in order to create the video. Initial videos will take longer than for tools that I am already familiar with. The price will also cover the preparation, recording, editing, production, transcribing, uploading and promotion time.
---
Influencer Statistics
To establish some objective statistical credibility for my reach I have included some statistics below.
These would obviously be in addition to the existing marketing reach that you can achieve through your own channels.
As of February 2019.
Blog
Blog and main site blog.eviltester.com: 23000+ page views per month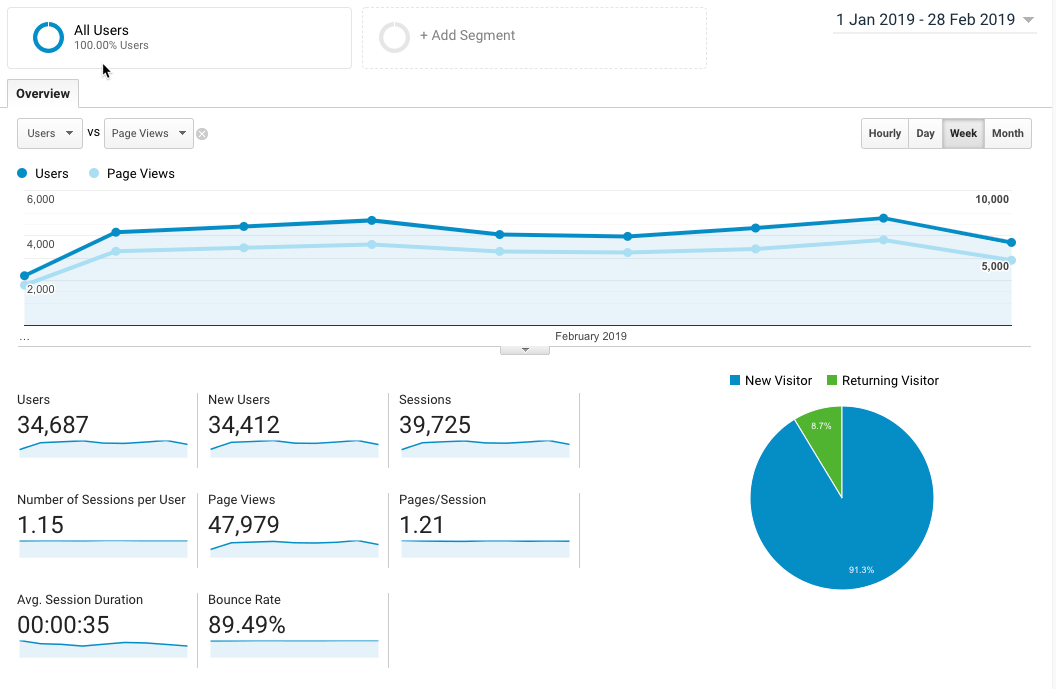 Twitter:
YouTube
Subscribers: 7000+
Videos: 280+
Total views 1.14 Million
Last 30 days views (February 2019) - 33.2K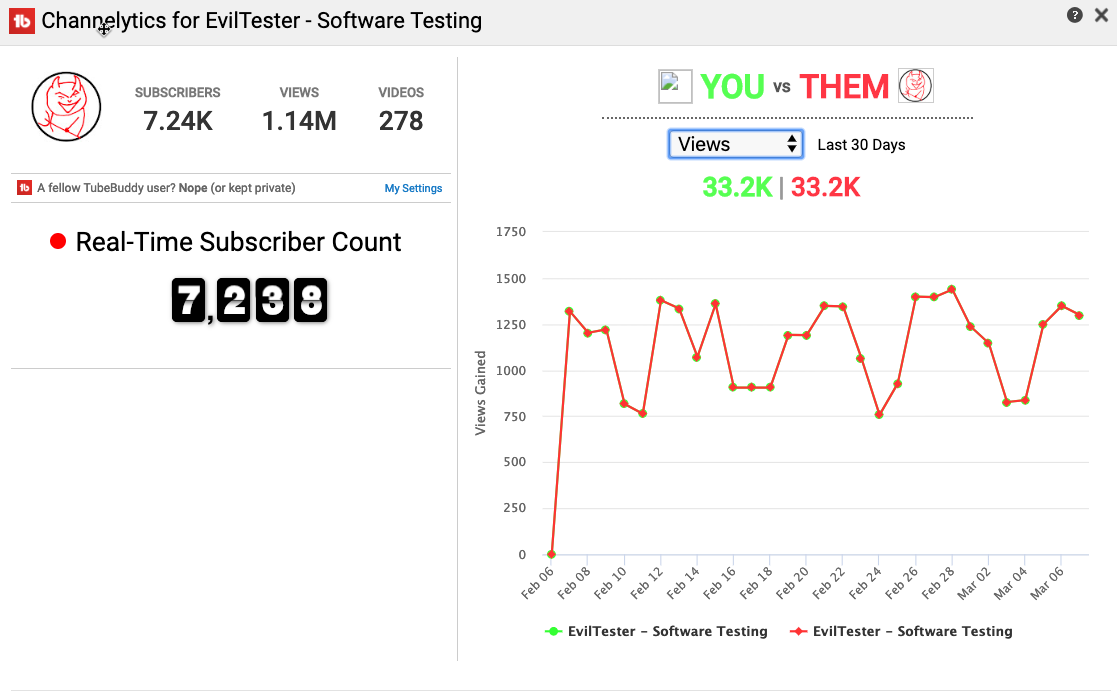 LinkedIn
Instagram, Facebook
I'm not particularly active on Facebook.
---
Contact
Contact me to discuss how we can collaborate on an effective marketing strategy for your product.