On 8th February 2013 I presented a webinar covering the basics of how to get started and some basic refactoring.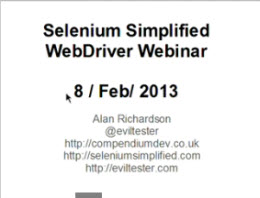 This was the first in a series of webinars on WebDriver automation using Java. It is a companion to my online training courses. In this webinar series I do "live" coding on a "real" application and explain my thought processes as I go. I try to answer questions that the webinar participants post as I go through.
I have uploaded the videos for watch on demand. This is the meetingburner recording, not my local recording.
In this webinar we had some initial sound problems so the first minute had no sound (I have edited that gap out of the video). There were some people complaining about not hearing sound over the first few minutes so I spent a little time on the chat window dealing with those people. At about 3 minutes in. (3 mins 30 - 3 mins 50). After this most of the Webinar was on track.
You cannot see the chat window in the replay so you will have to imagine what questions were asked. And I do repeat some of them as I work through.
Also available is the second video in this series
Recording
I didn't record the questions people asked so it is just the 'live coding' replay with the thought processes.
Source
The source code created during the webinar can be found here: