A book to help develop the Attitude and Mindset of a Software Tester.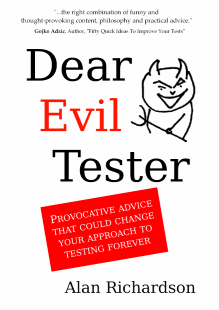 Are you in charge of your own testing? Do you have the advice you need to advance your test approach?
"Dear Evil Tester" contains answers to questions that you didn't know testers asked.
Dear Evil Tester is a three pronged publication designed to:
provoke not placate,
make you react rather than relax,
help you laugh not languish.
Dear Evil Tester is a revolutionary testing book for the mind which shows the reader an alternative approach to testing built on responsibility, control and laughter.
"Dear Evil Tester" contains advice that might change your test approach forever.
Our reviewers said:
"something completely different,
"I loved it",
"I couldn't put it down",
"fantastic questions and answers, nothing is held back!",
"I laughed - then I cried - then I laughed harder - then I cried softer",
"Read it and loved it. Great book.",
"full of inspirational gems",
"funny and thought-provoking content".
How will it affect you?
"Dear Evil Tester" is available to purchase now.
Starting gently with the laugh out loud Agony Uncle answers originally published in 'The Testing Planet'. "Dear Evil Tester" then provides new answers, to never before published questions, that will hit your beliefs where they change. Before presenting you with essays that will help you unleash your own inner Evil Tester.
With advice on automating, communication, talking at conferences, psychotherapy for testers, exploratory testing, tools, technical testing, and more. Dear Evil Tester randomly samples the Software Testing stomping ground before walking all over it.
---
Read what our early reviewers had to say:
"Wonderful stuff there. Real deep."
Rob Sabourin, @RobertASabourin, Author of "I Am a Bug"
"The more you know about software testing, the more you will find to amuse you."
Dot Graham, @dorothygraham, Author of "Experiences of Test Automation"
"laugh-out-loud episodes"
Paul Gerrard, @paul_gerrard, Author of "The Tester's Pocketbook"
"A great read for every Tester."
Andy Glover, @cartoontester, Author of "Cartoon Tester"
Don't take their word for it - download a PDF Sample and see for yourself
A Number One Best Seller
Thanks to the #30DaysOfTesting challenge on Twitter by Ministry of Test.
Dear Evil Tester pushed its way on to the #1 slot of an Amazon.co.uk Best Seller list.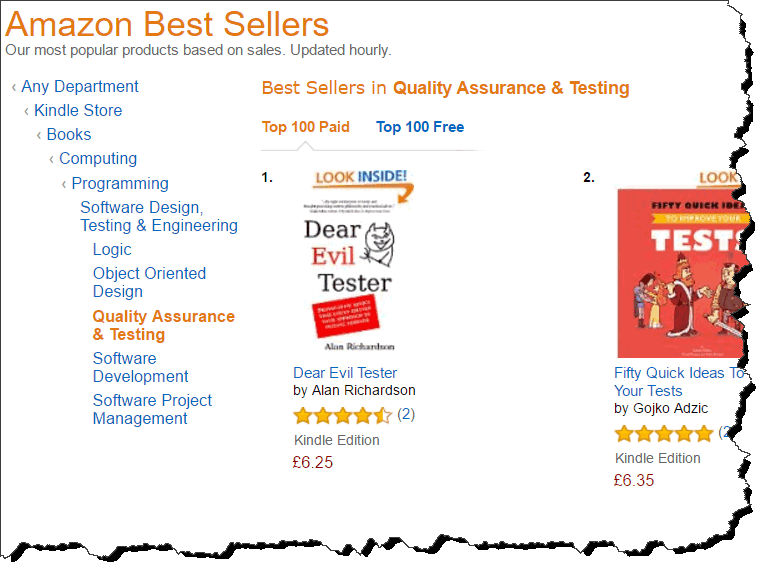 Behind the scenes 'making of' blog posts
Have you ever wondered what it takes to get a self-published book into print?
These behind the scenes 'making of' blog posts reveal what a 'pro' does to get into print.