---
Patreon Mentoring
I use Patreon as a community membership site to support people who are serious about improving their testing skills. Content built using community feedback it contains exclusive Patreon videos, tutorials and courses. As little as $1 monthly gives you immediate access to the material and community Q&A features.
Exclusive online training courses
Exclusive tutorial videos
'In The News' Testing Lessons Learned
Access to our YouTube content ad-free
Q&A video webinars
And more...
Online Training
---
Read the book: Dear Evil Tester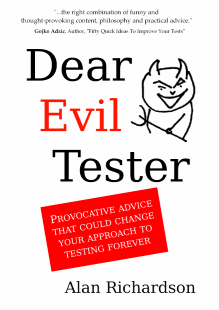 My book, "Dear Evil Tester" contains answers to questions that you didn't know testers asked.
"Wonderful stuff there. Real deep."

"The more you know about software testing, the more you will find to amuse you."
---
Other books written by Alan Richardson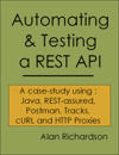 A Case study of Testing and Automating the Open Source Tracks REST API using: Java, RestAssured, Postman, cURL and HTTP Proxies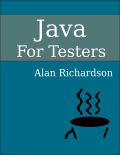 Learn to program Java by writing tests.
---
The Top 9 Questions About Agile Testing... Answered Inside
What is Agile Testing?
Do we still need testers in Agile?
What is an Agile Tester?
What does a Tester Actually Do?
Should we automated our testing?
What tools should we use?
How much should we automate?
How can we automate in a sprint?
How can we finish all our testing in a sprint?
Podcast - The Evil Tester Show
Alan Richardson's Experience - By The Numbers