TLDR; Identify why you should be the one talking about a topic and hold that Why at your core as you build a short sales pitch for the conference organizers.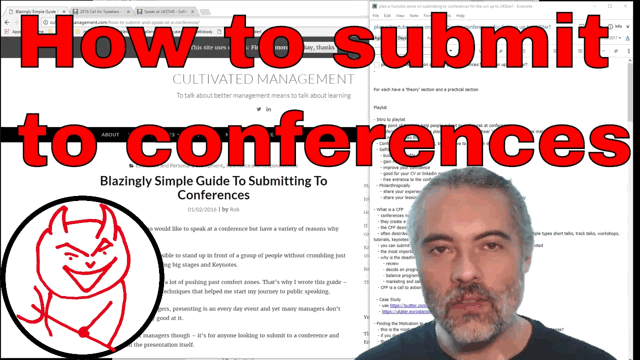 Regardless of how long you have until a conference submission deadline: 1 month, 1 week, 1 day, 1 hour. You still have time to submit.
And if you submit a passionate sales pitch with good benefits and features then you can submit successfully. Read on to learn how.
You can submit
I have been on the programme committee for UKSTar and Eurostar, so I have a little experience of being on the receiving end of conference submissions. As well as having experience of writing submissions to attend conferences. The advice here is drawn from experience from both sides of the submission process.
People spend too long on submissions:
they often outline the entire talk prior to submitting
they write slides
they make sure they have enough material for the 25, 30, 40 minute slot
they work out where they are going to get the art work
they procrastinate in ever more creative ways.
What they should do is:
find a topic that they feel strongly about
identify their unique slant on that topic - their experience, "Why does no-one else talk about…", "people don't seem to realise that…"
focus that unique slant and that strength of feeling into a pinpoint burning flame of righteous passion
Then sell that passion in the form of a conference submission.
You need the motivation to:
have your point of view told
submit a talk
Everything else comes after you are accepted, and if you have any doubts about ability to speak, or creating good slides then allow the pinpoint burning flame of righteous passion to overrule them because everything you need to do, you will have time to do, after you are accepted to talk.
Some Written Guidance
I wrote a lot of notes on 'how to submit for a conference', but after writing a few pages, I realised that most of what I was writing was already covered by Rob Lambert's Blazingly Simple Guide To Submitting To Conferences. I recommend you read this as Rob covers idea generation, overcoming common doubts, and guidance for submission.
I've added my outline at the bottom of this post in case it helps.
Tips
Read the call for papers - understand what the conference want
Copy paste the submission form to a text file
fill in the text file, never write directly to the submission form (browsers crash, forms fail)
find your "Why?"
create a boring title to guide you
Rant passionately, record it, transcribe it - that is your first draft blurb
Edit your blurb for clarity, to add more examples
When you edit, do not remove the passion, do not "corporate speak it up"
work on the title to make it a sales headline
avoid cute headlines
don't tease with questions and promises - provide some actual tips, solutions and examples that you will cover
always be ready to paste it into the submission form, keep it in a 'ready to go' state
you are not writing the blurb for the web site, you are writing a sales pitch for the organisers
the blurb can be edited prior to going on the conference web site - you can make that clear in the blurb if you want to
focus on the submission, not the talk
you can do this if you want to
The UKStar call for speakers ends on 30th July 2017. You can submit if you want to.
Free Bonus Video
I created a video covering this material, with a small 'case study' and analysis of some older submissions and talks that I've put in to conferences - including failed submissions so you can see where I didn't live up to my tips.
Free Bonus Notes
Intro

The point of this is to help people submit to and speak at conferences.
Conferences used to be the place where you went to hear 'new' and cutting edge material.
the internet does that now
Conferences are still relevant, but we have to use them differently
Selfishly

build your profile
gain new skills
improve your confidence
good for your CV or linkedin profile
free entrance to the conference

Philanthropically

share your experiences
share your lessons learned so that others don't have to learn the hard way

What is a CFP/CFS

call for papers, call for speakers, call for speaking, call for submissions
conferences need people to talk at them
they create a call for papers CFP to encourage people to submit talks
the CFP describes any theme or topics they want to encourage
often describes the types of talks you can submit - conferences usually have mutiple types short talks, track talks, workshops, tutorials, keynotes
you can submit for all of these but tutorials and keynotes are more likely to be invited
the most important thing on the CFP is the deadline
why is the deadline so far before the conf e.g. 6 - 8 months ahead

review
decide on programme
balance programme
marketing and sales process for the conf

CFP is a call to action, and an opportunity for you

Finding the Motivation to speak

this is the most important step - figuring out Why you are going to speak, what is your purpose?
if you don't have the motivation then you'll never submit and the stuff you submit will be flat
this is going to vary between people, I'm going to describe some possible motivations see which drives you

motivated by the rewards and benefits provided by a conference - free entrance, free hotel, etc.
motivated by the rewards and benefits provided by speaking - more practice, improve skills

i don't think they really work for me

for me, the reason I started, was that I was angry. I was sick of going to conferences and hearing case studies and presentations about how you 'should' do it one way, but that didn't match my experience. And I wanted to make sure that there was a balance.

that's one of the things that still drives me now
and its also one of the ways of overcoming resistance - your unique story, no-one else can inhabit that space

another reason I spoke was that certain topics I was interested in were under-represented, or not discussed at all - my early talks were about Model Based Testing, ways of improving as a tester, psychology and psychotherapy, free and cheap tools - and all of these were experience based, so in reality it was 'my experience' that was not being represented
diversity - it seems odd now but one reason I started speaking was diversity

yeah, an old white man with beard talking about diversity
but I was younger when I started, and I felt that many of the people I was seeing at conferences were 'older and out of touch'

they were talking about theory instead of practice

if you are concerned that your gender, ethnicity, creed, belief systems… whatever - are not represented at conferences, then be part of the change for that by submitting to speak.

if you feel in any way under-represented or marginalised by conference programmes then make a difference
you have to find what works for you

I need something strong enough to give me a push
and I need to believe in the message that I want to deliver enough in the talk so that it carries me through the weeks it takes to go though the submission process, and then the months it takes to go through the talk preparation and preparation phase.

Case Study

explain motivation behind some of the talks

Overcoming your resistance to speaking

after deciding on your motivation we then have to overcome the resistance that your brain is going to throw up
particularly if you haven't spoken at a conference before
and you have to commit to a decision to speak, to overcome this resistance
typical phrases that bounce into your head

why would anyone want to hear me speak?
i don't have the experience to talk about this
there is nothing new in what I have to say
but this will just bore people

doubts and impostor system

generally people will call this impostor system and you can look it up but that would be procrastination
you get over that by just doing it
if you want evidence then go online, look at conference programmes, look at videos and consider

most of what you saw wasn't new
the speaker might not have been particularly experienced

the only way to gain experience is to do it, and unfortunately with public speaking we learn in public
good speakers, are simply more experienced, there are ways of getting ready for a talk that we will cover later
if you use "I haven't done it before" as an excuse to not do it, then you will never do it
fall back on your motivation, if it is strong enough then it will carry you through, if it isn't then revisit your motivation because that will push you over this hurdle
every conference has people who have never been at a conference before and people who have never heard the subject before
and in your talk you will present your view, your experience, your lessons learned, in your unique style and that has never been presented before, that will be new and is worth putting out there
you overcome resistence by taking action and doing it, either because you know the rewards are worth it, or because your motivation is strong enough

you can procrastinate and do a lot of research and reading but the step that will make a difference is committing to action

that's it. do it, commit to taking the step of submitting and you overcome your resistance

Case Study

Planning for the submission

once you know why you are going to speak you build a plan
this isn't procrastination
this is making sure you don't have any excuses

if you don't do this then your subconscious can give you a get out clause for not speaking "oh I forgot about it and missed the deadline" "oh dear"

many conferences will accept submissions after the call for papers has closed so you don't get to use that excuse, but we want to avoid that happening in the first place

so we are going to build a set of dates
look at call for papers page
make a note of the important details
make a list of the dates

check that you are free when the conference takes place
add the date of the conference as a 'possibly attend conf X" in you calendar
find the deadline for submissions
add a calendar entry for the deadline (create some reminders)

make a list of the requirements

what do they need? a photo, description?
add a calendar entry for gathering these a week or so before the deadline

create a checklist

you can already tick off a few items
[] add conference CFP deadline into calendar
[] add conference dates into calendar
[] add conference material prep dates into calendar
now add

create ideas for talk
draft talk description
review talk description
write submission
review submission against CFP
add a todo for each item on the submission (find head photo, write bio)
submit talk

it doesn't have to be detailed at this point because we can add items later
schedule some time in you calendar for working on the submission, it doesn't have to be anything more than "work on conf submission" because you are going to work from your checklist
don't write down anything about creating slides, or looking for images, because at this point we are working on a submission, not the talk

Creating an idea

hopefully your purpose will lead you to an idea if you are speaking because a certain topic or viewpoint is under-represented
but if you need to generate ideas for a talk then draw on your experience
think "back"

what was hard when you started, how did you learn to make it easier, what is it like now?
how have your views changed? what did you believe? why? what changed your mind? what do you believe now? how does that help you?

think "now"

what cool tool are you using that you don't see people talking about? how does it work? what does it do? can you demo it? how does it help you?
what did you learn recently? how are you improving that? how will you learn more? how does that help you? what has learning it changed?

think "success"

what did you and your team do recently that worked really well? what did you do? what problems did you face? what did you learn?

think "annoyed"

what in the test community annoys you because it doesn't match your experience? use of technology? approaches to testing? a viewpoint that is getting attention that misses the point? expert pontification that you have counterexamples for?
what were you told, that was just plain wrong? mandates? methodology? approach? tool choice? how did the wrongness manifest? how did you make it right?

think - why does no-one talk about this?
think - I wish people would stop saying…
think
always draw on your experience, it means that when you come to do your talk you will have strong basis and bedrock to talk from.

Case Study

Testing an Idea

this is not about 'resistance' and saying 'not sure', this is about focus and building more passion into it
when you have a bunch of ideas you need to hone in one (or two) to create a submission
It might be easy, you might have one that you are so passionate about that it swamps all others, in which case you can jump to fleshing it out
In order to decide between multiple ideas you might have to flesh it out, map it to the CFP submission types
CFP often have multiple submission types - lightning talks, short 8 - 10 minute overviews, 30 minute talks, 45/60 minute talks with Q&A, 90 minute workshops, half day tutorials

which format does your idea best map on to?
then you will know how much information you need to build and if you can pull off

Why? What? Who? When? Where? How

Creating a Submission

A submission is more than an Idea, it is a sales pitch Sales pitch

stress benefits, rather than features
sell your passion and experience on the talk - why should it be you talking about it, rather than someone else?

A way of refining your talk

don't write your talk at this point #1 mistake people make - writing the talk at this point Identify why this is important and what is your driving purpose, what is the essence Main points that you want to get across

what I usually do - rant, record, transcribe
Title

start with a plain old boring title
create multiple titles
make it scannable rather than 'cute'
your title is your marketing department - it is there to get attention
your description is your sales department - it is there to close the deal

Reviewing your submission

Practical tips for submissions

always cut and paste into submission form
Resources to help you with submitting