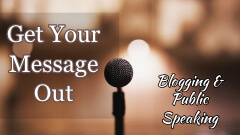 A course for Software Professionals who aspire to speak at conferences. This course walks you through how to build credibility via blogging. The whole sales pitch and promotion of your talk so you can be accepted to speak at conferences. How to practice and prepare. And how to handle the conference when you do get there: Q&A and what it is like to attend a conference as a speaker.
Filled with behind the scenes access to how I prepare and create conference talks. This is experience based.
Exclusively available to Patreon supporters. You can sign up to Patreon for only $1 a month and you'll gain access to this course, as well as other exclusive courses and regular (often daily) tips, tutorials and advice on Software Development and Testing.
Learn more about Patreon on this site
Contents
You can read the full contents on this Patreon post, but I've summarised it below.
A guide to blogging, YouTube and conferences to help you improve your career by making your work and thoughts visible to the Test and Software Development community:
Blogging
Case Studies
YouTube
Conferences
LifeCycle of a Conference Talk
The practicalities of Conference Speaking and Submissions.
The Submission Process
Being Accepted
Creating Your Talk
Practicing Your Talk
Delivering Your Talk
After Your Talk
Reusing your talk
Speaking Concerns at conferences (Pay To Speak, First Time Speaker, Exposure, Diversity)
Case Studies