TLDR; Nine common questions about Agile Testing answered in an easy to download pdf brochure or slide deck.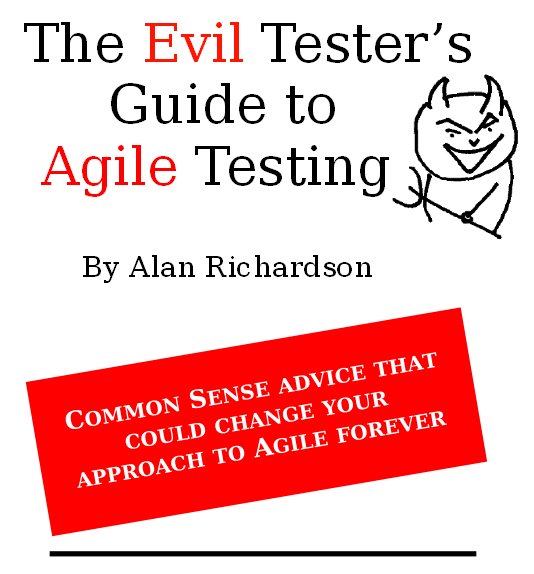 For Agile Tour London, I created a mini brochure called "The Evil Tester's Guide to Agile Testing". And now I have converted it into a slide deck for easier consumption and distribution. You can still find the original brochure as a pdf on EvilTester.com/agile.
Professional Branding!
The aim of this was to create a promotional brochure, because I'm a building my brand:
free stickers to give out at events (tick)
t-shirts for me to wear promoting eviltester.com (tick)
and now, brochures for the ultimate big corporate facade (tick).
You can find the brochure as an easy to download pdf on my on Alan is an Agile Coach Page. It is a gatefold A4 sheet with all the promo stuff on one side and all the value "9 Most Common Questions About Agile Testing Answered" inside.
Since I grew up with comics that tacked free gifts on the cover I had to have something like that on the front too.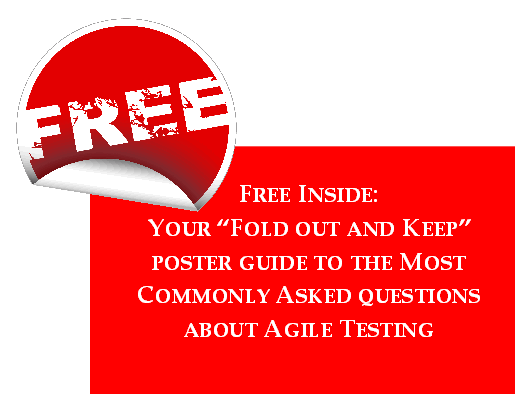 What Questions?
The nine questions I most often encounter are:
What is Agile Testing?
Do we still need testers in Agile?
What is an Agile Tester?
What does a Software Tester Actually Do?
Should we automate our testing?
What tools should we use for our Agile Testing?
How Much Should we Automate?
How can we automate and still finish the sprint?
How can we finish all our testing in the sprint?
And, I did indeed answer them.
If I didn't answer the most common question that you face then let me know in the comments or via contact form and I'll do my best to answer it in the future.
Short answers in the brochure, short and longer answers on the Alan is an Agile Coach Page and I included long and short answers in the Slide deck released to slideshare.
If you haven't read it yet, then, the Slide deck might be the easiest to read. But the high quality 'poster' is in the pdf at EvilTester.com/agile
Slides
More Answers? More Questions?
I will expand on these answers in future blog posts and videos, and if you have any other questions you want answered then let me know.