Hire us. A list of categorised services.
This page contains details of the services by Alan Richardson to help improve Software Development projects and the skill sets of individual Software Development Professionals e.g. programmers, testers.
Training
Learn more about public and onsite training courses.
I also train online. See my range of online courses here.
Consultancy
I can help you implement or improve your use of Selenium either through consultancy, coaching or training.
If you are facing any of these problems then I have solved them for other clients and can help you:
flaky test automation and need experienced help to make it robust?
you are using Selenium WebDriver are not sure how to make it even better?
you want to maximise the re-use potential of your automated code but are not sure how?
your team need to improve fast but you're not sure about the next steps to take?
you want to adopt Agile but aren't exactly sure how to make your process work?
Automated Execution issues can often be helped through Code Reviews and I offer a Code Review Service onsite and remotely.
Mentoring
When you want to do more than solve problems.
You want to improve on a regular and ongoing basis.
Mentoring may be what you need.
Working with you, based on your current work situation, and drawing from my experience as a Programmer, Tester, Automator, Manager, and Consultant.
I help through:
Individual Mentoring
Team Mentoring
Agile Coaching
You could learn Agile processes on your own, the hard way - using trial and error, and making mistakes.
Or bring in an Agile Coach and Consultant. Someone who works with you to help you improve. Their job is to help you not need them.
Alan Richardson is someone who has done all of this before. Combining a background in Testing and Programming.
Alan can mentor and coach your team to help improve your Agile Development Approach.
Learn more about Agile Coaching
Agile Testing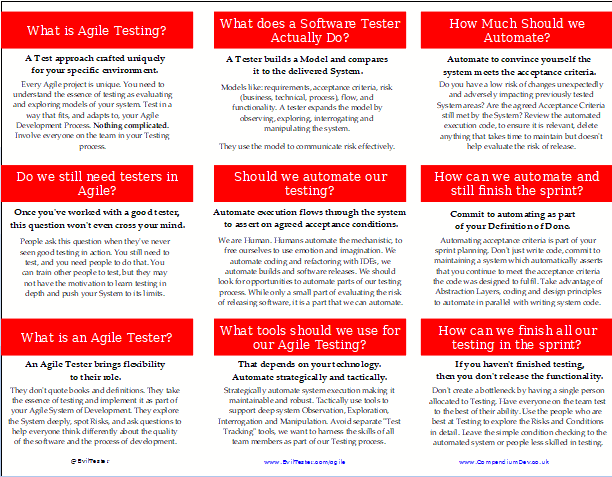 Download a free eBook Brochure answering the most common questions about how Software Testing fits into an Agile Software Development project.
Patreon Mentoring
Not everyone can bring me on site to work with their teams. I do work remotely but sometimes an ongoing remote and online mentoring capability can help.
That's why I setup Patreon, to provide a cost effective way of asking me questions and gaining access to regular hints, tips, tutorials and micro courses on Software Testing.
Improve your career and skills on a regular daily basis.
Learn about our Patreon Scheme
Podcast
The Irregular Evil Tester Show. Available on your favourite podcast app and server.