I wrote an article for the Testing Circus April 2016 issue. With the controversial and thought provoking title of "Join the Anti-"Test Automation" Brigade". It has substance and is not just click bait.
Testing Circus Magazine april 2016
Testing Circus Magazine asked me to write an article. And my response was 'Join the Anti-"Test Automation" Brigade'. This article describes a technique that I have tried to develop and refine for the last year or so and has paid big dividends when I now explain and work on projects that automate as part of their test process.
You can read the article, starting on page 6 of the April 2016 edition.
Join The Anti-"Test Automation" Brigade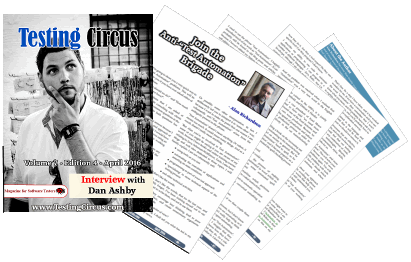 While it might seem like a click bait title. I really do have content. You'll have to read the article to see, but here are some snippets.
"Test Automation" doesn't mean anything. Or rather, it means too much. It could mean many things. And as a result, doesn't really mean anything.

"Test" and "Automation". Two words that are endemic in the Software Testing world. And what do they mean?

"Test" is too ambiguous. I try to limit my usage of the word.

Is "Automation" a verb or a noun? Is it a verb? "I will automation", "I automation". Not really, but we can make it part of a verb phrase - we tend to say "I will do automation", "I am doing automation". We do use it to imply action. We do use it as a verb.

Dictionaries typically define "Automation" as a noun. "Run the automation", "Fix the automation", "How much automation has passed", etc.

My problem with "automation" started when I realised that no-one knew what I meant when I said the word.
And now… to find out the solution to the problem. Turn to page 6 in your copy of Testing Circus Magazine April 2016.