Happy Testing New Year (for 2017)
TLDR; Happy New Year - And all the best for 2017 - resolve to make changes every day - don't rely on a single point in the year.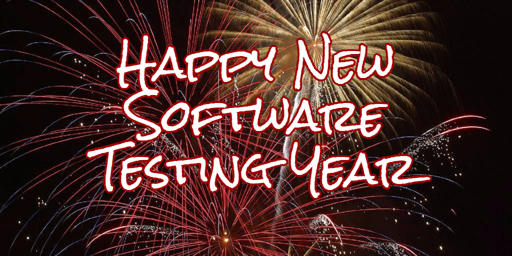 I try to avoid New Year's Resolutions.
I think we need to resolve to make changes every day.
But… The Evil Tester Sloganizer has a resolution template
Open the Browser Dev Console

Type the JavaScript Below for instant resolutions:

for(var x=0;x<100;x++){
console.log("-" + process_sentence(sentences[30]));}

Here are some examples if you want some inspiration for making Resolutions…
I resolve to Question More Requirements
Take nothing for granted
Model "Testing" as a Questioning Process
I use techniques from Psychotherapy to ask questions
I recommend "The Structure of Magic" volumes 1 & 2 by Bandler and Grinder for good questioning ideas.
I wrote about this in "NLP meta model for testers" compendiumdev.co.uk/nlp
and here compendiumdev.co.uk/page/nstc201605
I think I might just create a log of what I explore
I suppose I could scrutinize ambiguity
I suppose I could write down what I learn
And, this is what I do. I keep a log of actions, decisions, todos, results, and things I learn. Over the course of the day it builds up and supports my end of day and periodic history reviews.
I do all of this in an Evernote which is titled "20161231 Day Notes - Saturday", but I change the date, and the day of the week. The day of the week is to help me remember what day it is!
I made a resolution to practice so that I can test intelligently
And I do practice.
I create coding exercises,
I look for web sites that use technology I don't understand.
I try to bypass GUIs that I don't like.
I try to apply all the stuff I read in books from non-testing subjects to testing.
I practice so I can test better and with more deliberate thoughtful action.
Don't Rely on a New Year's Resolution
Renew and Revisit your resolutions every day.
Write down the actions you will take today (todo list).
Write down your "WHY?" - the things you are fighting against, the goals you want to hit, the results you want to achieve, the benefits you are working towards.
Throughout the day write down the actions that you take and the results you achieve.
At the end of the day, write down your why, and what you will do next.
And repeat. Every day. To keep renewing and working towards your resolutions.
Happy New Year - And all the best for 2017