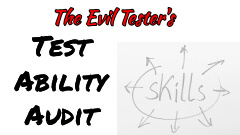 A course for Software Testers who take their understanding of the craft of Software Testing Seriously.
In this course you will analyse and reflect upon, how you approach and think about testing, automating and your ability to test.
Exclusively available to Patreon supporters. You can sign up to Patreon for only $1 a month and you'll gain access to this course, as well as other exclusive courses and regular (often daily) tips, tutorials and advice on Software Development and Testing.
Learn more about Patreon on this site
Contents
This course is a video version of the half day/full day Test Ability workshop that I present at conferences.
In the course we explore notions of Testability, Automatability, Test Ability - Technical Skill, Testing Skill etc.
There are plenty of exercises, and I encourage you to do the exercises. The workshop is interactive with lots of discussion and team discussion. The exercises in this video course are an attempt to simulate the learning process from the workshops.
You can find the contents in this patreon post
Below is a list of the ten part video sequence, with the durations of the video sections. After each video, you should do the exercises.
001 - Overview - 18:44
002 - What is Testability? - 13:44
003 - Testability as Relationships - 7:32
004 - Definitions and Philosophy - 20:26
005 - The Technology Audit - 21:09
006 - The Application Audit - 14:25
007 - Automatisability Audit - 16:27
008 - Test Ability Action Plan - 09:50
009 - Final Audit - 12:06
010 - Bonus Live Testability Audit - 20:13