A URL manager running on Windows 95,98, NT, 2000, XP.
This tool is no longer actively developed or supported.
URL Control Center sits in your system tray.
Ready for you to take control over your internet favourites. Easy to Configure, simple to use.
UCC is no longer supported. UCC is now freeware.
Register with the following details:
UserName: Freeware User
Registration Code: 1542-BBDE-92BF-D786-61EC-DC6E-191E-6A28-29A1
Main Location:
[.zip] 1,194 K [.exe] 1,226 K
Safe Install. A UCC installation is 2 files: a single executable and an easy to understand help file. No extra dlls required.
With one click on its icon you see your own customized menu of URL Favourites and programs.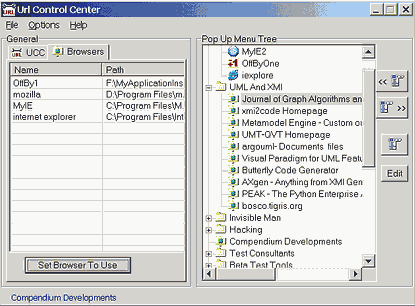 Simple drag and drop interface to setup your favourites
Access all your favourite URLs quickly from the system tray
Use the same program to store your favourite web sites for ALL your browsers
Quickly swap between browsers
Execute Supporting tools (browsers, link checkers)
Easy to configure and easy to use, URL Control Center makes browsing the internet easy for you.
Double Click the system tray icon and use the configuration window to setup the menu exactly as you want it.
Easy to configure with simple drag and drop technology.