On 4th December 2012 I presented a Webinar for Eurostar on Technical Testing.
Slides
Webinar Recording on Youtube
Notes
Links Mentioned:
Technical Testers will find a way:
Tools listed in the bluffer's Guide:
Further Reading:
And I leave the rest up to you. I honestly think that the testing world will add more value when everyone in it augments their testing knowledge with technical knowledge, and management knowledge with Technical Knowledge.
And you decide, how you do it.
Technical Web Testing Course
I now have an online course that teaches the basic skills and approaches for Technical Web Testing.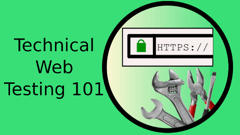 And you can also learn some of the skills on my free Test Automation U course.